Guinigi Prosecco DOC Treviso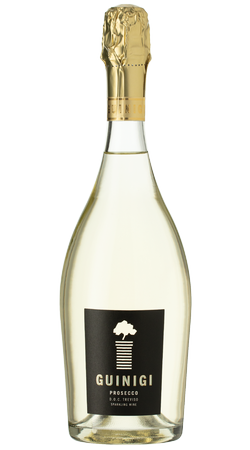 Wine Profile
Tasting Notes
Fresh and appealing, this Italian wine sparkles with gold highlights among fine and persistent bubbles. The nose is delicate with fruit forward and floral notes of apple, white peach, citrus fruits, acacia and wisteria. The palate is balanced with the optimal amount of juicy acidity and softness.
Winemaker Notes
This Prosecco was sourced from the province of Treviso with Glera grapes that are grown from the Conegliano hills to the foot of the Valdobbiadene hills. This area is known for its mild climate and alluvial clay soils which is ideal for allowing the Glera grapes to fully ripen by harvest time in mid-September. After harvest, the grapes are gently pressed and then fermented in stainless steel tanks with the addition of selected yeasts. The second fermentation occurs with controlled temperatures to preserve the fresh aromas of the grapes. Finally, the sparkling wine is cold stabilized, filtered and bottled.
Food Pairing Notes
Ideal as an apéritif or in cocktails, this sparkling wine also pairs particularly well with heavier dishes such as pastas with a meat or cream sauce, fresh seafood and shellfish, or a wood-fired pizza.