Guinigi Prosecco Rosé DOC Treviso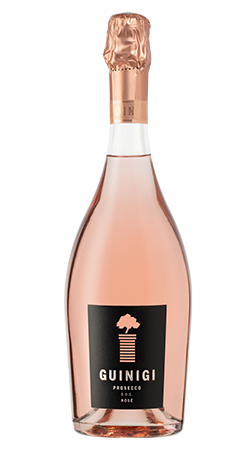 Wine Profile
Tasting Notes
Bright and delicate, this Italian rosé shines with a soft hue of pink mother of pearl among lasting and fine bubbles. Aromas are driven by fruit, with notes of apple, white peach, citrus and wild strawberries balanced against floral notes of peach blossoms. The mouthfeel is refreshing with a high level of acidity cleansing the palate between each new sip.
Winemaker Notes
Crafted from a blend of glera and pinot noir grapes, the glera grapes were harvested from the mainly hilly province of Treviso in mid-September. The grapes were softly destemmed and pressed for their first fermentation in steel tanks after the addition of selected yeasts. The pinot noir grapes were cultivated from Friuli, which is known for its mild climate and clay soils that are rich in minerals. After harvest towards the end of August, the grapes are destemmed and pressed leaving the liquid in contact with the skins for 12-16 hours to extract color and flavor before its first controlled temperature fermentation. The two wines, glera and pinot noir, are then blended and refermented according to the Martinotti Method at a controlled temperature of 59-61˚ Fahrenheit, with the refermentation process lasting two months on average.
Food Pairing Notes
Excellent as an apéritif or enjoyed throughout your meal, this sparkling rosé is best served with lighter dishes such as a caprese salad, creamy vegetable risotto, fresh seafood or a platter of sushi.