Cedar + Salmon 2019 Willamette Valley Pinot Gris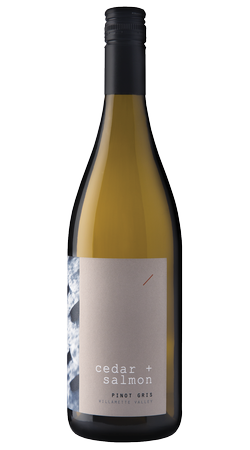 Wine Specs
Appellation
Willamette Valley
Wine Profile
Tasting Notes
Our 2019 Willamette Valley Pinot Gris greets the nose with tropical fruit aromas. Crisp on the palate, this wine is bright with fresh citrus flavors and soft notes of lemon curd. The finish is balanced with a refreshing acidity.
Winemaker Notes
The 2019 growing season began cold and wet with a few mild frosts during late April, but started off warmer than average and saw fewer than average heat spikes. The vintage will be remembered for early rains in September and rapid cool down into October. After harvest, the fruit was pressed gently then racked clean to stainless steel tanks for fermentation. Fermented cool at around 55°F, the juice retained its freshness and purity that it had started with. Minimal racking post fermentation and blending for balance were the final steps in producing this Pinot Gris.
Food Pairing Notes
Enjoy this Pinot Gris with grilled vegetabels alongside a well-seasoned, blackened salmon. This wine pairs exceptionally well with anything you might fancy, including your favorite book on a porch swing.