Guinigi 2019 DOC Delle Venezie Pinot Grigio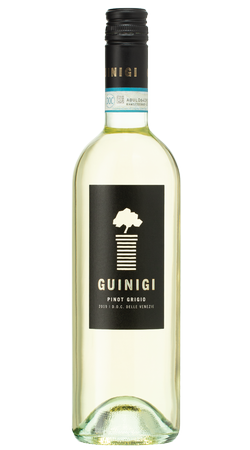 Wine Specs
Appellation
DOC Delle Venezie
Wine Profile
Tasting Notes
With a brilliant yellow color, this Italian pinot grigio awakens the palate with an elegant and refined bouquet. Aromas of apricot and hawthorn flowers are delicately balanced with a hint of minerality. Flavors are bright with an acidity that complements the softness of this wine.
Winemaker Notes
The grapes were sourced from the D.O.C. Delle Venezie area, specifically in the river Piave region. Characterized by lighter alluvial soils and a temperate climate, these vineyards allow the grapes to ripen to their full potential while retaining acidity, freshness and complex aromas. Harvested between the end of August and the beginning of September, the grapes are destemmed and gently pressed before fermentation in stainless steel tanks. After fermentation, the wine is then matured on the lees to enrich its bouquet and enhance the structure of the body. Once the wine is stabilized, filtered and refined it is then bottled.
Food Pairing Notes
This wine pairs exceptionally well with lighter fare such as seafood antipasti, risotto primavera with fresh vegetables or a healthy portion of sushi. It can also be served as an apéritif alone or alongside a cheese board.